Member

Registered: 2018-05-03

Posts: 461
Europa League: Arsenal thrash Qarabag to go top of Group E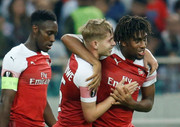 Arsenal have gone top of Group E in the Europa League, after they crushed Qarabag 3-0 on Thursday.
The Gunners had beaten Vorskla 4-2 in their first fixture two weeks ago and travelled to Azerbaijan without some of their key players.
However, they were ahead as early as the 5th minute, after Sokratis Papastathopoulos prodded home a corner-kick.
Although the hosts threatened to level the tie, Emile Smith Rowe made it 2-0 in the 53rd minute.
Another teenager Matteo Guendouzi rounded off scoring in the 80th minute.
Arsenal are top with six points with a better goals difference than Sporting CP.
Source: http://dailypost.ng/2018/10/04/europa-l … p-group-e/
Member

Registered: 2018-04-20

Posts: 299
Re: Europa League: Arsenal thrash Qarabag to go top of Group E
Arsenal defearted Qarabag and they are disturbing us... Ordinary Qarabag in Europa ooo...Shameless!
Member

Registered: 2018-02-17

Posts: 593
Re: Europa League: Arsenal thrash Qarabag to go top of Group E