Member

Registered: 2018-07-05

Posts: 192
See The Moving Car A Nigerian Student Invented With Slippers And Broom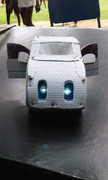 Nigerians are forever innovating and giving reasons why we can easily become a technologically-advanced society.
A student of Anglican Grammar school Ogbomoso has designed a car using slippers and broomsticks. That is not all, the car is powered by a power bank which was developed by the student.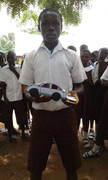 He has been placed on a scholarship up till his university level by an alumnus.
Recall that in August, a team of five students (Promise Nnalue, Jessica Osita, Nwabuaku Ossai, Adaeze Onuigbo and Vivian Okoye) codenamed the Save A Soul team from Regina Pacis Secondary School Onitsha in Anambra State, became global champions in the junior division (App focus) category at the Technovation Challenge in Silicon Valley, California, USA after developing a mobile application called the FD Detector which detects fake drugs.
We hope that this rising star is recognised by the government and is put to good use in the Nigerian society.
Source: https://guardian.ng/life/see-the-moving … oomsticks/
Member

Registered: 2018-07-05

Posts: 159
Re: See The Moving Car A Nigerian Student Invented With Slippers And Broom
Member

Registered: 2018-10-30

Posts: 1
Re: See The Moving Car A Nigerian Student Invented With Slippers And Broom
This is great news that Nigerian students invented car that have slipper and broom.These cars are different from other cars which I have seen on the site https://www.paperwritingpro.com/ first time but that also don't include the features that Nigerian students are providing now.My one of friend also offered me lot of cars with extra features as well.